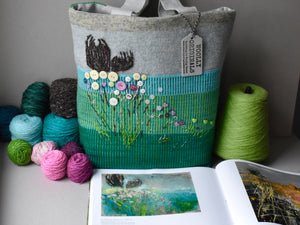 I recently realised that I had now designed and made quite a number of one-off larger bags, each inspired by a painting either by Joan Eardley or FCB Cadell. I thought it would be interesting to gather together photos of some of these bags in one place! The base fabric of each bag has been individually designed according to the painting though adapted for the size of a larger bag; and then machine knit using either Jamieson's of Shetland Spindrift yarn or Iona Wool weaving yarn. Buttons, ribbons, upcycled fabrics, other brand yarns, embroidery and crochet techniques have been used post-blocking to create an...
---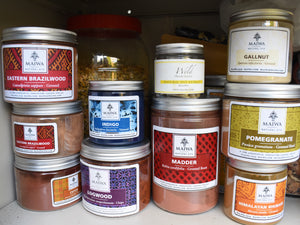 I'm delighted to be taking part in the Maiwa School of Textiles 10-week online dyeing workshop! This incredibly well-supported course takes you through dyeing with wool, silk, cotton, linen and hemp using a variety of natural dyes. Although I have been studying and practising using plant dyes since 2018, I thought this course was too good to miss.  And I was right!  Already we have learnt how Maiwa scour and mordant both protein and cellulose fibres, and also how to organise your studio. Here are a few pictures from the first dye bathes, namely marigold and madder on the right on...
---
When Ellen of Mrs Lam Yarns applied to my Indie Dyer's opportunity this summer, her yarn and it's story were so amazing that they just had to have their own design! Ellen's yarns celebrate her Chinese heritage and narrate her experiences as a British Born Chinese woman.    Her submitted hand-dyed yarn told the story of the Dragon Boat Festival which in history would take place superstitiously during an unlucky month on the lunar calendar in terms of disasters and illnesses. Therefore, the competitors' boats would have poisonous animal-shaped items to chase away the evil spirits by the sea or river.  ...
---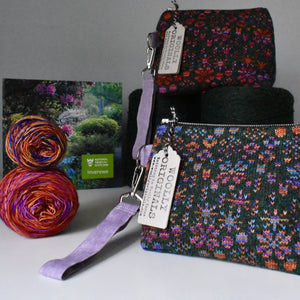 Inverewe Floristy, inspired by the Inverewe walled garden in Wester Ross, northwest Scotland.
---
A new design for the winter season, inspired by the variety of mocktail and cocktail drinks and their glass shapes!  The outer fabric has been machine knit using Jamieson's of Shetland Spindrift wool in a dark grey called Oxford, and a stunning 100% British Blue Faced Leicester yarn from Rusty Ferret in Dundee called Kids Rainbow. The pink handle and lining fabric, which looks like sliced fruit to me, is from Fabric Focus in Edinburgh.  These bags will be for sale in my shop update on Friday 27th November at 8pm (Edinburgh time).