WELCOME!
Established in Edinburgh in 2015, Woolly Originals uses domestic knitting machines to create bags for crafters and artists to use for their projects and for their tools.
The outer Woolly fabric is made from undyed and plant-dyed Shetland wools. Guest single origin breed wools also feature. The bag designs are based on a range of ideas and inspiration. All tell a story and all are unique to Woolly Originals.
MORE INFO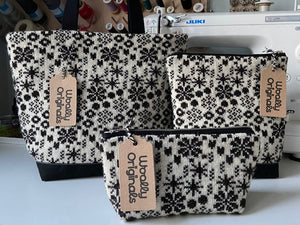 SHOP UPDATE
The next Woolly Originals online shop update will be in February 2024.
And we will restart attending in-person events from March 2024. More details can be found on our Events page and in our monthly newsletter.
VISIT ONLINE SHOP